(August 2019)Braizon proudly partners with Hanson Wade for the Inaugural B3DD Summit
Braizon Therapeutics, Inc. is proud to announce that we are partnering with conference organizer Hanson Wade for the inaugural B3DD (Blood Brain Barrier Drug Delivery) Summit, to be held in Boston, U.S.A. August 13-15, 2019.
The B3DD Summit is the industry's first conference dedicated to addressing the translational challenges of effective and safe delivery of CNS drug candidates, with a special segment on Braizon's business focus – drug delivery across the blood brain barrier. More than 60 industry stakeholders are expected to gather for an in-depth discussion of the current challenges, and to build relationships that lead to the development of successful therapies for CNS disorders.
Braizon will be presenting on the current progress of our drug delivery platform. Please contact us to ask about discounted attendee rates for this summit!
About Event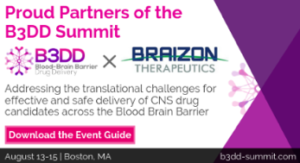 Built with input from the field's thought-leaders including the likes of Biogen, Genentech, Armagen & Denali, the B3DD meeting will enable delegates to:
 Assess the in vivo and in vitro models
 Evaluate CNS drug delivery approach success
 Discuss the challenges of quantifying drug target exposure
 Evaluate the different technologies in development
 Explore the latest BBB technology innovations
 Calculate dosage for effective treatment
 Learn about BBB biology
To learn more please see the following URL for details of the event.
https://b3dd-summit.com/