Japan Healthcare Venture Summit (JHVS) 2019 Report (Bio Japan Oct 9-11 @ Pacifico Yokohama)

Award winning! Pitch and Panel discussion, Elevator pitch, & Business Matching
We would like to thank all the visitors to our booth at JHVS 2019.
■Our booth
Three days of exhibition at JHVS was an excellent opportunity for Braizon to raise awareness of our business in Japan, and globally. We were pleased to receive visitors' enquiries from representatives of the pharma industry, venture capital groups, academia, CROs, and the press.
Braizon participated in more than 30 business matching meetings, and were very happy to make new connections and reinforce existing relationships.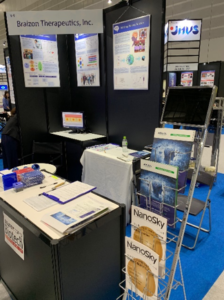 ■Venture Award Winning!
Braizon was honored to receive a "JHVS2019 Venture Award" recognizing us as a promising Japanese biotech startup. We will continue to endeavor to grow and develop our business.
URL:https://www.mhlw.go.jp/stf/newpage_07453.html (in Japanese)
[Note] Ministry of Health, Labor and Welfare website
At the "Japan Healthcare Venture Summit 2019 ", Nine venture companies were awarded among exhibitors, considering their comprehensive assessment of technological innovation, development progress, corporate structure, easy-to-understand explanations, necessity of support,and then it was determined that these companies have potential. "
Applicable Web page URL: https://www.mhlw.go.jp/stf/newpage_07453.html (in Japanese)
* List of JHVS2019 Venture Award winners)
・Braizon Therapeutics Inc. (our company)
・Nanocarrier Co.,Ltd.(R&D of pharmaceuticals and other products that apply micellar nanoparticle technology)
・Melody International Ltd. (Perinatal telemedicine platform)
・On-Chip Biotechnology Inc. (Flow cytometer and cell sorter using micro-channel chip)
・Sharkey Technologies ・ Ehime University (Developed platform technology to create VNAR from safe small shark immunity).
・ID Pharma Co., Ltd. (Application to cell therapy, gene therapy, gene vaccine)
・Cellusion Inc. (R&D, manufacturing, and sales of induced pluripotent stem cell-derived corneal endothelial cells for bullous keratopathy therapy)
・Noile-Immune Biotech Inc. (clinical stage biotechnology company focused on the development and commercialization of next generation CAR-T cells to eradicate solid cancers)
・AMI Co., Ltd. (Development of a stethoscope "super stethoscope" for telemedicine with a heart disease diagnosis assist function, development of a telemedicine system based on a super stethoscope)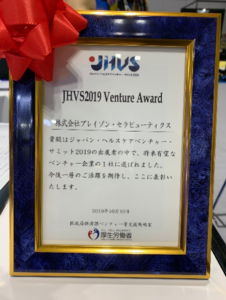 ■Global Expansion Panel Discussion
Braizon participated in a pitch and panel discussion as a representative Japanese biotech venture which is expanding overseas or has foreign company members. During this event, publicly listed biotechs Healios K.K., Sanbio Co,Ltd., and Braizon participated. Director of business development, Philip Davy, joined Hardy TS Kagimoto (Healios) and Keita Mori for this English language event.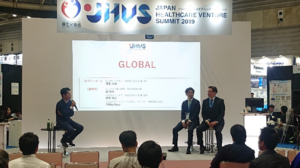 ■Elevator pitch Session
Select JHVS exhibitors were given a chance to pitch their business model, progress, needs for partnering or customers in 90 seconds on the main stage. Director of clinical development, Fumikazu Wanibuchi, did an excellent job of concisely presenting Braizon to a welcoming audience.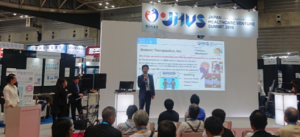 Please see the following URL for an outline of the event.