Received the Jury's Special Award at the Japan Healthcare Venture Summit 2020 (JHVS2020) Elevator Pitch!
We won the Jury's Special Award at the elevator Presentation "Brain Access ™, a new challenge for CNS disease treatment" Our representative Tosu will be on stage


Your company has been selected for the "Judges' Special Award", which is given to those who have performed particularly excellent pitches from a total of 77 practitioners.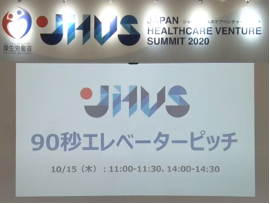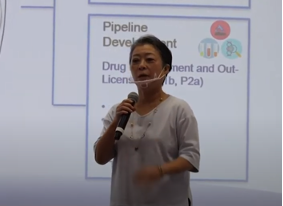 release article from Japanese Ministry of Health, Labor and Welfare.
Details of the award
At the Japan Healthcare Venture Summit (JHVS) 2020 held from October 14th to 16th, 2020, a "90-second elevator pitch" was held to create appealing opportunities for exhibitor venture companies.
Of the 77 JHVS2020 exhibitors, a total of 77 who had a medical venture or seeds that they wanted to commercialize, individuals, etc., a total of 8 people who performed a particularly excellent pitch,was selected by the examination.
Judges' Special Award (3 people) * Our company won
Three judges independently select ventures that are expected to have particularly high potential for practical use and seeds potential.
JHVS2020 Venture Award (5 people)
Among ventures, academia, individuals, etc. that have seeds that are expected to be linked to products such as pharmaceuticals, medical devices, and regenerative medicine, the possibility of practical application, potential of seeds, presentation technology, etc. and the future potential are comprehensively judged.
As a privilege, the eight winners will be given the opportunity to publicize the winners' decisions on the JHVS2020 website, etc., to participate in the awards ceremony and the winner pitch. The award ceremony is scheduled to be held as a program of the following symposium sponsored by the Ministry of Health, Labor and Welfare (the main target of this symposium is medical ventures, support organizations, etc. in Japan, about 50 people at the venue, and online participants Assuming several hundred people, scheduled for Thursday, February 4, 3rd year of Reiwa)
Press release (about the award ceremony) from Japanese Ministry of Health, Labor and Welfare
https://prtimes.jp/main/html/rd/p/000000002.000062973.html
https://www.mhlw.go.jp/stf/newpage_16070.html
[Reference] Last year's JHVS 2019 news article
Please see the following for our exhibition report article. Last year, we won the Venture Award.