Participated in a startup event of a company supported by the Japan Patent Office, IP Acceleration Program (IPAS)
On August 28th, the JPO 's "IP Acceleration Program for Startups (IPAS)" was selected as the first recipient company in 2019 and served as a press release for the recipient company. in , our representative CEO Tosu on stage , and spoke of the enthusiasm to receive the support of at IPAS .
At the event, there was the pitch of the previous support company and the pitch of the support company this time.
The last time support the companies, Caulis Inc., DeepFlow , Inc., aceRNA Technologies spoke result of receiving the IPAS support, and how management was changed and their business starategies. And companies which is going to be supported IPAS 2019 were pitched and talked their business and what they expect from IPAS support.Companies with advanced technologies of IT, IoT, AI, which are different industries from our Braizon, was very interesting and we could understand part of their business strategies, and Companies with advanced technologies and ideas of biotechnology, which are of the same industry as our Braizon, can be helpful for us.
We would like to thank IPAS support from Japanese government Patent agency, and through IPAS support we will brush up our intellectual property strategy and make a further leap forward.
・Phtos of event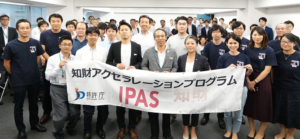 ※Picture provided:ASCII.jp


[Reference] IPAS2018 support companies (including companies were on this stage is below)
・Caulis Inc.
Business / Development and provision of unauthorized access detection services ( construction of security infrastructure to support ICT services )
DeepFlow Co., Ltd. / DeepFlow , Inc.
Computer software planning / development, etc. ( Ultra large-scale fluid structure coupled analysis system " elkurage " revolutionizes all design processes related to manufacturing
・AceRNA Technologies Inc.
Contributing to regenerative medicine and new drug discovery through discovery of new miRNA functions
http://acernatec.com/about-us/
[Reference] IPAS2019 first phase support partners like List
Bio-tech
・ Seturotech Co., Ltd.
Developed a method that enables easy and efficient creation of genetically modified (genome-edited) mice using the fertilized egg electroporation method
・ Metagen Inc.
Development of stratified healthcare services aiming at health maintenance and disease prevention by appropriately classifying different intestinal environments depending on individuals and taking approaches according to the types of intestinal environments
・ MediGear International Co., Ltd.
Developed " tumor-targeted minimally invasive therapy " that easily realizes medical homogenization regardless of doctor's skill level
■ AI
・ Acing Corporation
Development of AI algorithm with built-in machine with features of ultra-lightweight operation, high-speed data processing, real-time learning, and stand-alone
・ A Star Quantum Co., Ltd.
Development of quantum computer platform and common library
■ Manufacturing
・ Space Link Co., Ltd.
Development of "Green Capacitor" with features of large capacity, quick charge, safety, long life and low cost
・ Pi-Crystal Corporation
Applying organic semiconductor single crystal technology developed at the University of Tokyo to create soft, thin, light and inexpensive devices
・ Photo electron Soul Inc.
Development of electron beam generator using semiconductor photocathode technology
・LeapMind Co., Ltd.
Development of "Embedded Deep Learning" software and hardware with small size and energy saving design
* IPBASE asks you to grant a group photo of everyone and post it here